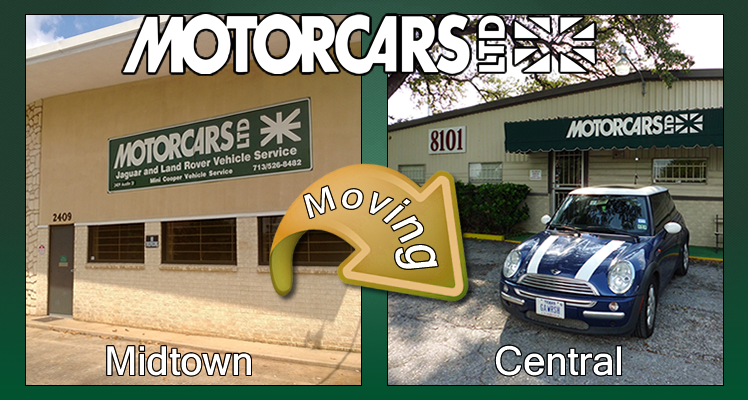 Motorcars Ltd Midtown has moved to our Central location
We are not going out of business! We are consolidating our Midtown location into our Central location at Washington at I-10 Motorcars Ltd – Central 8101 Hempstead Road Houston, Texas 77008.
All personnel will be moved to the Central location and will handle all of your repair and maintenance needs from that facility; all will have the same duties as they had at Midtown.
We are no longer accepting vehicles for service at Midtown and ask that you make contact with the Hempstead staff for service.
---
When:
We hope to have the move complete by 31 January 2018.
New Address:
8101 Hempstead Rd. Houston Tx 77008
---
Motorcars Ltd is always striving to improve our service and we believe this consolidation will help us do just that.
If you have any questions about the move or any other subject, please contact our staff: Keith Hollis or Mike Gallagher at 713-863-9388 ext. 2 or click the following links to email them directly – Keith or Mike.
You may also schedule service online at request-service.
Motorcars Ltd Central – Map and Directions
Motorcars Ltd Houston Central is located near the Memorial Park area. Here is an interactive Map to let you know precisely where we are located. We also provide detailed directions right below the map. If you need any help with directions or have any questions please call 713-863-9388 ext. 2 and we will be happy to help.
Motorcars Ltd Central 8101 Hempstead Road, Houston Texas 77008
From I-10, exit Washington Ave and head north.
Washington forks, splitting into Katy Road (left) and Hempstead Road (right).
Take the fork to the right.
Immediately after the road forks there will be a left turn.
Look on the other side of the road and you'll see the Motorcars Ltd Central location.
Turn left across Hempstead Road and into the Motorcars LTD parking lot.
---
Visit our website to learn more about us, schedule service or look at our reviews:
motorcars-service.com