Motorcars Ltd Classic Jaguar, MG, Triumph, Austin Healey Service & Repair
To better serve our Classic British Car customers, we converted a section of our repair shop location into a "British Classic Only" shop. The workshop has 5 bays and 2 lifts dedicated to Classic Jaguar, MG, Triumph, BMC Mini and Austin Healey service and repair. We are proud to have Houston's most experienced Classic British Car technicians teamed up to get your car back on the road as quickly as possible.
From engine tune-ups to complete engine rebuilds, Motorcars Ltd will maintain, service and repair your Classic British Car to perform as new. We are the Houston, Texas answer to your British Classic Car problems.
Houston British Classic Car Service & Repair
The Motorcars Ltd British Classic Car Shop
What is a British classic?
 A British Classic is any British car made before 1988, but especially those British cars made during the 1950's, 1960's and 1970's. These were the most prolific years – the MG T-Series – MG TC, MG TD, MG TF, the MGA and the MGB, the Jaguar XK120, XK140, XK150, the Jaguar XKE and XKE V12, the Triumph TR3, TR4, TR6, the Austin Healey 100, the Austin Healy 3000 MK3 and Bug Eye Sprites… they all have a special place at Motorcars Ltd.
Motorcars Ltd was founded in 1972 right in the middle of that hey-day. People were actually driving these cars to work every day, and when we started, we quickly realized that MGB's and TR6's needed routine maintenance along with the XKE's and XK120's and XK150's that we were servicing.
It was a pretty crazy time – we performed full restorations on MG T Series, XK120's and maintained daily drivers of the same vintage – at one point, we had over 12 full restorations in progress!
Today, Motorcars Ltd retains a special place in our shop for the mechanical service, repair and maintenance for all British Classic Cars….  we keep them all on the road.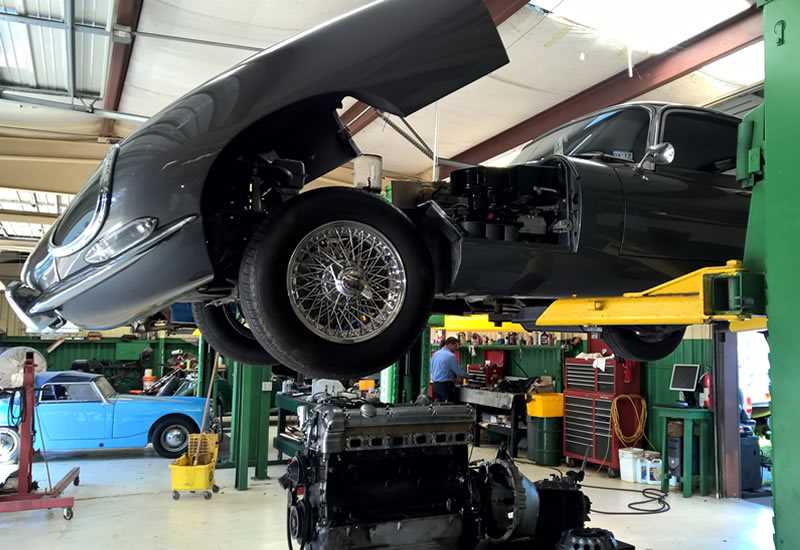 British Classic Car Models We Service
Certain models epitomize the classic car sector, typically Jaguar, MG, Austin-Healey and Triumph sports cars. These iconic British marques have been successful as a result of large production volume, their ability to meet the needs of their enthusiastic owners and maintain timeless appeal.
Motorcars LTD is committed to the preservation, usage and enjoyment of these historic British marques and has dedicated the resources necessary to support Houston area car owners' with access to highly skilled mechanical and repair services at our facility.
Why Bring Your British Classic Car To Motorcars Ltd?
Expert Workmanship at Competitive Prices
Many Quality Parts in Stock Ready to Install
Suspension Rebuilds
Honest and Friendly Staff
Major Engine Repairs
Carburetor Service
Brake Service
Transmission Service
Drive Train Service
Coolant Servic