Land Rover Service & Repair Specialists in Houston
Motorcars Ltd is passionate about Land Rovers, from the first 1949 Series 1 all the way to the most current models. On any given day, you are sure to see three or four Vintage Series Rovers in our classic shop in various stages of repair. In our main shop, you will always find two or three Defenders of all ages, and six to eight daily driven late models like the Land Rover Discovery, as well as full size Range Rovers, Sports, LR3 and LR4 that are in for service or repair.
Our team of professional technicians are enthusiastic and are ASE Master Certified and/or factory trained. Each of them is dedicated to achieving "expert" status on all things Land Rover in Houston.
In addition to having the most qualified technicians for
Land Rover service and repair in Houston
, we have invested in the most current state-of-the-art diagnostic systems, designed specifically for Land Rover.
Our Autologic (written specifically for Land Rover) is a complete diagnostic tool uniquely designed to provide factory level diagnostic support to the independent Land Rover repair shop such as Motorcars Ltd. We also use the System Driven Diagnostics system, or SDD service that is available to factory technicians. Together with Autologic and the SDD systems, Motorcars Ltd. is able to provide the most comprehensive Land Rover maintenance, diagnostics and repair services at the highest level.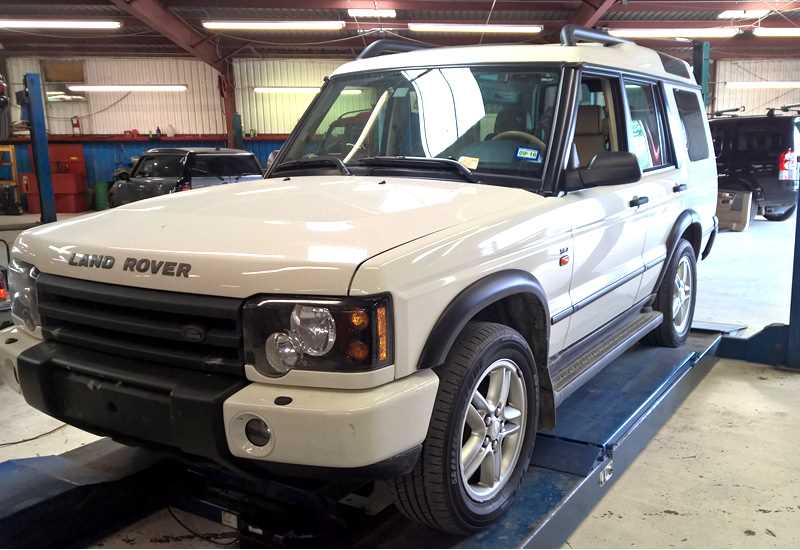 Land Rover Routine & Scheduled Maintenance
Motorcars Ltd provides a complete range of Land Rover services in Houston: from simple oil changes and scheduled maintenance, to complete engine rebuilds. At Motorcars Ltd, we pride ourselves on providing the most comprehensive and personalized Land Rover service, maintenance, and repair.
Next time your Land Rover needs routine service, maintenance or repair, give us a call! We want to be your dealer alternative for your Land Rover routine & factory scheduled maintenance services.
Houston's Most Experienced Land Rover Service and Repair Center
Motorcars Ltd was founded in 1972 as a repair and restoration shop for all British Classic Cars in Houston. Over all of these years, we have maintained our British Classic Car commitment to Houston's vintage Land Rover and present day Land Rover service and repair needs.
Simply stated, Motorcars Ltd is THE most experienced independent Land Rover service and repair specialist in Houston, Texas –  we are "Land Rover Houston Central".
Complete Range Of Services For Your Land Rover
Motorcars Ltd offers you a complete range of services for your Land Rover. From an oil change to a complete engine rebuild, our professional technicians pride ourselves with delivering dealership quality repairs at independent garage prices.
The next time your Land Rover needs routine maintenance or factory scheduled maintenance is due, give us a call! We want to be your dealer alternative for routine & scheduled maintenance services.
Land Rover Customer Service
Land Rover owners are adventurous, detail oriented, and demand the highest quality products and services and want to know exactly what we can do for them!
They are only interested in a company that has the car's, and the owner's interests in mind and want to be assured that the company will only do what is necessary to provide for the safety and longevity of their car.
Land Rover owners look to us because we have the ability and tools to perform these specialized tasks! We have the knowledge, special tools and the latest in electronic diagnostics for Land Rover.
What do we do?
First and foremost, we listen. Not every one has the same problems or experiences with their Land Rover, so it is vital that we understand exactly what brought that customer to us today.
We use the latest technology to "Talk to Your Land Rover" in order to gather the information that we need to diagnose the problem with accuracy. But in truth, sometimes, the customer is the best source of information about their Land Rover and we will never know that unless we listen.
Since 1972, we have known that customer service makes or breaks a business. With that knowledge, we constantly strive to improve and work to better serve you, our customers.
We understand that deciding to transition your Land Rover's repair needs from the dealer to an independent garage can be stressful. Rest assured that will do everything to make the decision and process easy and rewarding.As a Motorcars Ltd Land Rover customer, you can expect dealer level services, including state-of-the-art diagnostic equipment, ASE Master Certified and factory-trained technicians and a clean and organized facility… but you will also find friendly and personalized service. The people that greet you at the front desk represent over 75 years of experience in this business, and look forward to earning your trust every day.
Providing Top Quality Service and Repair for Your Land Rover in the Houston Area
Motorcars Ltd offers a complete range of services for your Land Rover, Range Rover Classic, Defender, Range Rover, Range Rover Sport, Discovery 1, Discovery 2, LR2, LR3, LR4, Freelander and Evoque. Being experts at all things Land Rover, including the Classics and the latest Land Rover models, we have the technicians, diagnostic equipment, and the know how to be your first choice for Land Rover service.
Next time your Land Rover needs routine service, maintenance or repair, give us a call! We want to be your dealer alternative for Land Rover routine & scheduled maintenance services.
A Closer Look at Some of the Land Rover Models We Service