Triumph Service and Repair Specialists
Motorcars Ltd provides is one of the leading Triumph repair shops and service centers in the Houston area.
Motorcars Ltd offers a complete range of services for your Triumph. We are experts on the Classic Triumph models.
From engine tune-ups to complete engine rebuilds, Motorcars Ltd will recondition your Classic British Car to perform as good as new. We are Houston's answer to your Classic Triumph repair and maintenance requirements.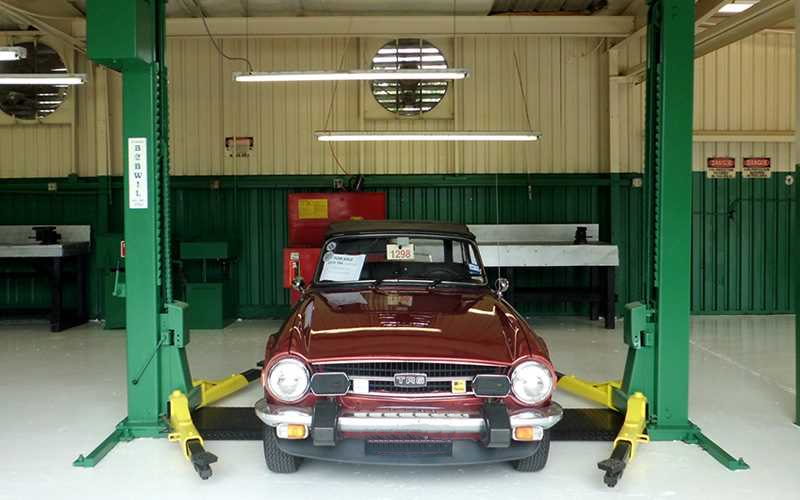 Classic Triumph Repair Shop in Houston
Motorcars Ltd was founded in 1972 right in the middle of the British car hey-day…. people were actually driving these cars to work every day… and when we started, we quickly realized that the Triumph's needed routine maintenance along with the other British classics we were servicing. It was a pretty crazy time – we performed full restorations on Triumph's and XK120's and maintained daily drivers of the same vintage – at one point, we had over 12 full restorations in progress!
Today, Motorcars Ltd retains a special place in our shop for the mechanical service, repair and maintenance (no, we no longer do full restorations) for the driven British Classic Cars…from Classic Jaguars, MG "T" Series, MGB, TR6, XKE, Austin Healey, Bug Eye Sprites, MGA… we keep them all on the road.
A Closer Look At The Classic Triumph
The Triumph Motor Company was a British car and motor manufacturing company. The marque had its origins in 1885 when the German Siegfried Bettmann initiated S. Bettmann & Co and began importing and selling bicycles under his own trade-name in London. The trade-name became "Triumph" in 1886, and by 1889 the businessmen started producing their own bicycles in Coventry, England. If you're interested in Triumph company history, you'll find a great Wikipedia write-up here.
The last Triumph model sold was the Acclaim, but it was nothing more than a rebadged Honda Ballade and was built under license at the former Morris works at Cowley in Oxfordshire, England. The Triumph Acclaim was produced until 1984, after which the Triumph name disappeared completely. Future British Leyland and Honda Cooperative productions were marketed under the Rover badge. The Triumph trademark is currently owned by German car maker, BMW, which acquired trade name rights in 1994 when BMW bought out the Rover Group.
Motorcars Ltd takes great pride in keeping these classics on the road. We offer maintenance, repair and service on all Triumphs including 20TS/TR1, TR2, TR3, TR4, TR5, TR6, Spitfire and the Stag to name a few. We no longer perform "full restorations", but we do provide restoration quality maintenance and repair services routinely.
Whether it is a simple carburetor rebuild, cylinder head work (yes, we even have our own machine shop) or brake replacement or repair, Motorcars Ltd has the facilities, tools and staff to perform to exacting standards.