Jaguar Service & Repair Specialists
Motorcars Ltd is one of the top-rated Jaguar service and repair shops in Houston.
We offer a complete range of services for your Jaguar XKE, XJS, XJ6, XJ8, XJR, XK8, XKR, S-type, X-type, XJ, XK, XF, XFR and F-type. We are experts at all things Jaguar, from the classics to the latest Jaguar models.
We have the technicians and the diagnostic equipment to be your first choice for Jaguar service and repair in Houston, Texas.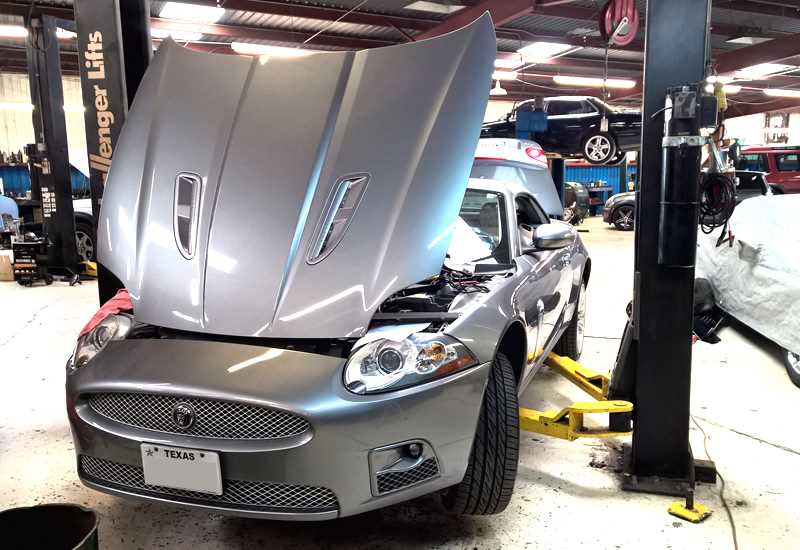 Jaguar Service & Repair in Houston
Jaguar Houston
Motorcars Ltd started in 1972 as a repair and restoration shop for all British Classic Cars in Houston, Texas. As Jaguar and Land Rover became daily drivers and the dealers sold more and more units, our focus changed significantly to becoming a more service and repair oriented facility. We have maintained our British Classic Car commitment, but we focused new ideas and people on developing ourselves into Houston's Jaguar repair experts so much so that in fact, we are THE independent Jaguar service and repair specialists.
We have a dedicated service and repair facility in the Houston area – Houston Central where we are excited to apply our experience and knowledge to all of the Jaguar heritage lines.
Motorcars Ltd is Jaguar Qualified
Motorcars Ltd is passionate about British cars. Our team of professional technicians are ASE Master Certified or factory trained, and are dedicated to achieving "expert" status in all things Jaguar.
Our Jaguar Service programs are committed to the Jaguar brand.
In addition to having experienced Jaguar technicians with specialized training, the company has invested in the most current and state-of-the-art diagnostic systems available to independent (non-dealer) repair shops. The Autologic for Jaguar is a diagnostic tool uniquely designed to replicate the functionality of diagnostic equipment used by Jaguar dealer technicians. Autologic enables us to provide comprehensive Jaguar diagnostic, maintenance and repair services. Motorcars Ltd also uses the SDD system available to factory technicians.
Why Bring Your Jaguar To Motorcars Ltd?
Motorcars Ltd offers a complete range of Jaguar maintenance, diagnostic and repair services. From a simple oil change to a complete engine rebuild, our professional technicians provide quality workmanship. At Motorcars Ltd, we pride ourselves with delivering dealership quality repairs at independent prices.
The next time your Jaguar needs routine maintenance or factory scheduled maintenance, give us a call! We want to be your dealer alternative for routine & scheduled maintenance services.
Customer Service
For over 51 years, we know that customer service makes or breaks a business. With that knowledge, we are strive to improve and better serve our customers.
We understand deciding to transition your Jaguar service and repair needs from the dealer or other independent shops to Motorcars Ltd can be stressful. Rest assured that we will do everything we can do to make the decision and process of becoming a Motorcars Ltd Jaguar customer easy and rewarding.
As a Motorcars Ltd Jaguar customer you can expect dealer level competence, including state-of-the-art diagnostic equipment, ASE Master Certified and factory-trained technicians and a clean and organized facility, but most importantly friendly and personalized service.
Call or email Motorcars Ltd. A member of our knowledgeable and friendly staff is ready to discuss your Jaguar service and repair needs.
A Closer Look at the Jaguar Models We Service