Motorcars Ltd is MINI Qualified
Motorcars Ltd is passionate about MINI and Mini Cooper. On any given day, we have three or four BMW MINI Coopers in for service and repair and in our Classic repair shop, you will find two or three of the BMC MINI Coopers being serviced.
Our team of professional technicians are ASE Master Certified and/or factory trained, and each is dedicated to achieving "expert" status on all things MINI Cooper.
In addition to having the finest technicians for Mini service and repair, we have invested in the most current and the most state-of-the-art diagnostic systems, specifically for BMW MINI.
Our Autologic for BMW MINI is a complete diagnostic tool uniquely designed to provide factory level diagnostic support to the independent MINI Cooper repair shops such as Motorcars Ltd.
In fact, Motorcars Ltd has five Autologic diagnostic units supporting our BMW MINI Cooper repair shop and service facility.
MINI Service and Repair Houston
Motorcars Ltd was founded in 1972 as a repair and restoration shop for all British Classic Cars in Houston. Over all of these years, we have maintained our British Classic Car commitment to Houston's MINI Cooper service and repair needs.
Simply stated, Motorcars Ltd is THE most experienced independent MINI Cooper service and repair specialist in Houston, Texas.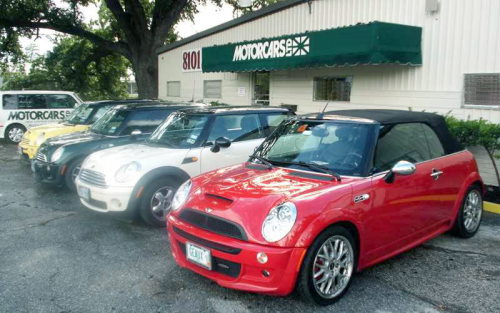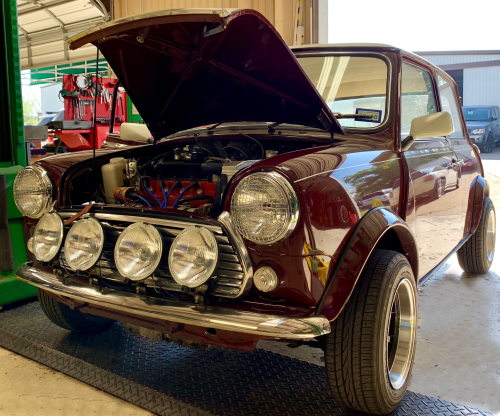 MINI Routine & Scheduled Maintenance
Motorcars Ltd offers a complete range of MINI Cooper services, from simple oil changes to complete engine rebuilds. At Motorcars Ltd, we pride ourselves on providing the most comprehensive and personalized MINI Cooper service, maintenance, and repair at any cost.
Next time your MINI Cooper needs routine service, maintenance or repair, give us a call! We want to be your dealer alternative for your MINI Cooper routine & scheduled maintenance services.
MINI Customer Service
MINI Cooper owners are young, or at least young at heart, tech savvy, and want to know exactly what we can do for them!
They want to know that we have the car's, and the owner's interests in mind and want to be assured that we will only do what is necessary to provide for the safety and longevity of their car.
MINI Cooper owners expect us to have the knowledge and tools to perform these specialized tasks! We have the knowledge and tools.We even build the BMC Mini Coopers into race cars.
What do we do?
First and foremost, we listen. Not every one has the same problems or experiences with their MINI Cooper, so it is vital that we understand exactly what brought that customer to us today.
We use the latest technology to "Talk to Your MINI" for the information that we need to diagnose the problem with accuracy. But in truth, sometimes, the customer is the best source of information about their MINI and we will never know that unless we listen.
Since 1972, we have known that customer service makes or breaks a business. With that knowledge, we constantly strive to improve and work to better serve our customers.
When deciding to transition your MINI Cooper's repair needs from the dealer to an independent garage can be stressful. Rest assured that will do everything to make the decision and process easy and rewarding.
As a Motorcars Ltd MINI Cooper customer, you can expect dealer level services, including state-of-the-art diagnostic equipment, ASE Master Certified and factory-trained technicians and a clean and organized facility… but you will also find friendly and personalized service.
Call or contact Motorcars Ltd. and you will find one of our knowledgeable and friendly staff ready to discuss your MINI Cooper maintenance, service and repair needs.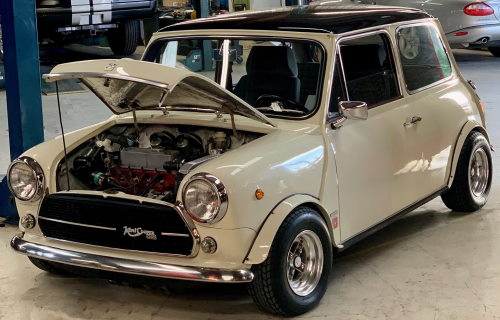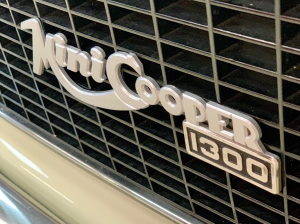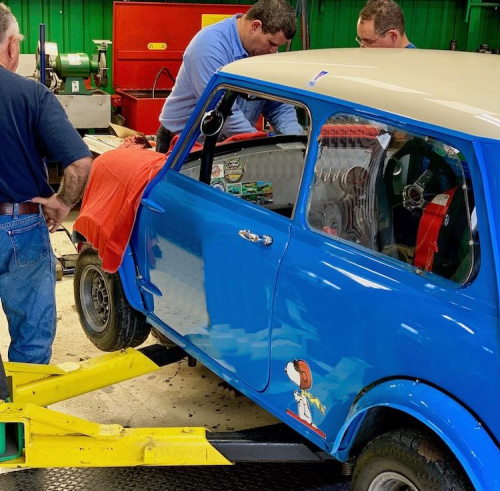 MINI History
If you have not explored the MINI Cooper history, you may be surprised to learn that the original model was made by the British Motor Corporation (BMC) and released in 1959! Like its German contemporary, the space-saving layout of the original MINI was considered to be the British equivalent of the Volkswagen Beetle!
The modern "BMW" MINI Cooper, although technically very different from its purely British forerunner, still retains much of its British heritage. The classic transverse four-cylinder engine, front-wheel-drive configuration and its iconic "bulldog" stance are hallmarks of the MINI Cooper's British roots.
The MINI Hatch/Hardtop, Clubman, and Convertibles are infused with British heritage while being assembled at Plant Oxford in Cowley, United Kingdom. There is still a lot of "British" in the BMW MINI Cooper!
MINI Models
Autologic and our talented technical staff enable us to provide comprehensive MINI Cooper service, maintenance and repair covering all MINI Cooper models:
BMC Mini Cooper
R50 MINI One Mk1
R52 Mini Convertible Mk1
R53 MINI Cooper S Mk1
R54 MINI Clubman
R55 MINI Clubman Mk2
R56 MINI Hatch/Hardtop Mk2
R57 MINI Convertible Mk2
R58 MINI Coupe
R60 MINI Countryman
R61 MINI Paceman
Next time your MINI Cooper needs routine service, maintenance or repair, give us a call! We want to be your dealer alternative for routine & scheduled maintenance services.