Jaguar XKE Service and Repair Specialists in Houston
Motorcars Ltd provides top quality Jaguar service and repair in the Houston, Texas area.
Motorcars Ltd offers a complete range of Jaguar XKE services. We are experts on the Classic Jaguar models. Jaguar is our specialty.
From engine tune-ups to complete engine rebuilds, Motorcars Ltd will condition your Classic Jaguar to perform as good as new. We are Houston's answer to your Classic Jaguar repair and maintenance requirements.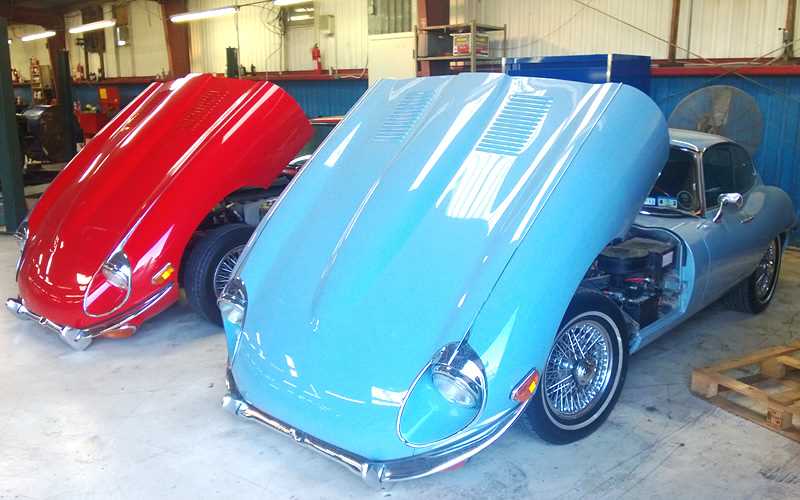 Jaguar XKE Repair Shop in Houston
Motorcars Ltd was founded in 1972 right in the middle of the British car hey-day. People were actually driving these cars to work every day, and when we started, we quickly realized that the Jaguar XKE's needed routine maintenance along with the other British classics we were servicing. It was a pretty crazy time. We performed full restorations on MGTC's and XK120's and maintained daily drivers of the same vintage. At one point, we had over 12 full restorations in progress!
Today, Motorcars Ltd retains a special place in our shop for the mechanical service, repair and maintenance (no, we no longer do full restorations) for the driven British Classic Cars…from Classic Jaguars, MG "T" series, MGB, TR6, XKE, Austin Healey, Bug Eye Sprites, MGA… we keep them all on the road.
A Closer Look At The Jaguar XKE Model
In 1961, Jaguar introduced what is probably their best known vehicle, the E-type or XKE. Seductive styling enclosed the XK 3.8 engine with three carburetors proven in the XK150S while independent rear suspension kept the power to the ground.
The 1971 Series III E-type received the 5.3 liter, aluminum block, transistorized ignition V12 and a wider track and bigger tires to handle the power. A longer floor pan for the 2+2 allowed optional automatic transmission. Power steering was standard.
Motorcars Ltd has restored many XKE's over the years and we have maintained literally hundreds of XKE's since our founding in 1972. Our owner actually worked on XKE's when they were new.
Motorcars Ltd was in full operation in the hey-day of the XKE 6 cylinder and XKE  V12. We have literally "grown up" with these cars coming and going in our shops.
Motorcars Ltd takes great pride in keeping the Jaguar XKE 6 Cylinder (3.8 and 4.2) and the Jaguar XKE V-12's on the road. Motorcars Ltd offers full maintenance, repair and service on both the XKE 6 Cylinder and the XKE V12. We no longer perform "full restorations", but we do provide restoration quality maintenance and repair services routinely. On any given day we will have 3 or 4 or 5 Jaguar XKE's in our classic repair facility undergoing a variety of customer requests and repairs.
Whether it is a simple carburetor rebuild, clutch replacement, cylinder head work or engine rebuild (yes, we even have our own machine shop) or brake replacement or repair, Motorcars Ltd has the facilities, tools and staff to perform to exacting standards.