Land Rover Defender Service and Repair Specialists
At Motorcars today, we still see a fair number of early Defenders coming in for repair and maintenance. Some of these are still fairly stock, while others have undergone restoration. Some have had LS power train packages installed, others have retained the original 3.9 or 4.0L gasoline engines, while the diesel versions run the 200 and 300tdi variants.
Without exception, the restorations, while looking exceptionally nice, will have various deficiencies uncovered when put into daily service. However nicely they were put together, they need to be driven, then sorted, then driven and sorted some more.
We also see a fair number of recently purchased Defenders, some purchased locally, while others purchased and brought in from other parts of the world. We start with the basics and sort them out. Brakes, gearboxes, clutches, suspensions, and engine/drive-ability concerns. Electrical, cooling systems, HVAC, rattles, vibrations, etc. Check engine lights. Blown fuses and burned wiring. Door locks and ignition switches.
We've seen it all. We can do it all.
We offer a complete range of services for your Land Rover from a simple oil change to a complete engine rebuild, our professional technicians can handle it. At Motorcars we pride ourselves on giving dealership quality repairs at independent garage prices.
Next time your Land Rover needs routine maintenance or factory scheduled maintenance is due, click here or give us a call! We want to be your dealer alternative for routine & scheduled maintenance services.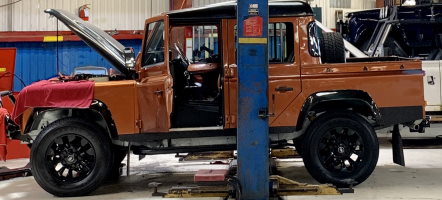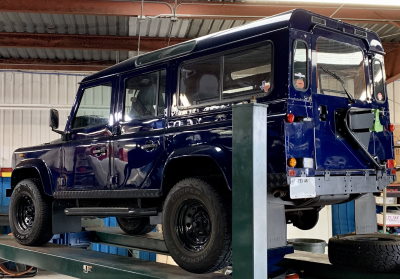 Land Rover Service and Repair Located in Houston
Years of Service
Motorcars LTD opened its first all British car repair shop in Houston Texas back in 1972. In those days we had all the British made vehicles and plenty of them coming through the shop. Eventually when Jaguar (and later Land Rover) became the two remaining British-made cars sold in the U.S.A, Motorcars became known as Houston's Land Rover repair experts.
A Closer Look At The Land Rover Defender Model
The Land Rover Defender (initially called the Land Rover Ninety and Land Rover One Ten) is a British four-wheel-drive off-road utility vehicle developed from the original Land Rover Series launched in 1948. Production finally ended on January 29 2016 when the last Defender, rolled off the production line. The Ninety and One Ten where later renamed the "Defender 90" and "Defender 110" to avoid confusion with the Land Rover Discovery.
The Defender only sold in the US between 1993 to 1997. These US models where fitted with the 3.9 Litre and was later improved to the 4.0 Litre.
The Defender stop selling in the US due to a 1998 regulation that required vehicle to include airbags. The Defender could not be fitted with these without major modifications, which given the small numbers of NAS vehicles sold in relation to Land Rover's global sales, were not economically viable.
The Defender Continues
Let's take a look at what we know so far…
"How do you define an icon?" Good question.
Land Rover imported the last NAS Defender in 1997 but continued production and sales world wide until production ended in 2016.
In 2020, Land Rover has announced the debut of the New Land Rover Defender.
Available in both 90 and 110 inch wheelbases, these new vehicles are a far cry from the basic utility vehicle that bore the name, Defender.
Air suspension, Adaptive Dynamics, Terrain Response, Dynamic Stability Control, Electronic Traction Control, Roll Stability Control, Cornering Brake Control…. Then there are creature comforts, connect-ability, sophistication, and safety.
Motorcars LTD, your number one alternative to the dealer, and the most experienced repair facility in Houston to service and repair your British vehicle.