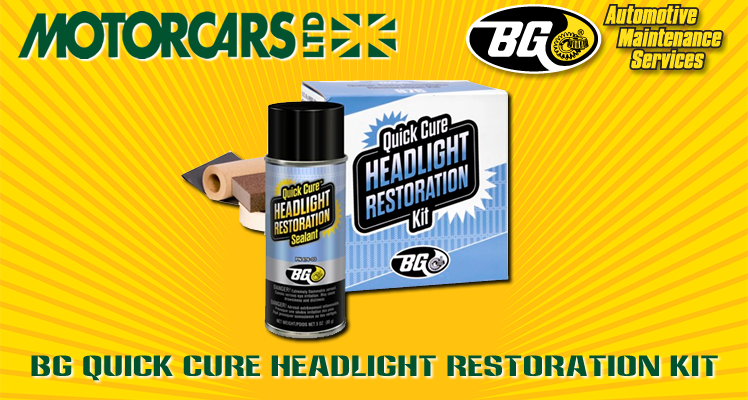 Motorcars Ltd. offers the BG Quick Cure Headlight Restoration Kit Service
When headlights turn cloudy and yellow, it's primarily caused by the deterioration of the UV protective layer.
The oxidation of this protective layer can make the headlight appear hazy and reduce light output by more than 75 percent, which affects the safety of the driver and ultimately the resale value of the vehicle.
The BG Quick Cure™ Headlight Restoration Kit features and easy-to-apply aerosol UV protective sealant with both anti-UV ray and anti-yellowing agents, as well as special sealing components that help the new UV layer cure in minutes! (View Video Below)
 BG Quick Cure™ Headlight Restoration Kit
BG Quick Cure™ Headlight Restoration Sealant
1000-grit sandpaper sheet
600-grit sandpaper sheet
Masking paper
Masking tape
Sanding block
White towel
This is not just a repair it is a solution and comes with a 2 year warranty.
---
The Experts at Motorcars Ltd can perform the BG Headlight Restoration Service on your MINI, Jaguar, or Land Rover today. Get your night time visibility back. We want to keep you and your car on the road for years to come. Schedule your BG Headlight Restoration Service at 1 of our 2 Houston area locations – Houston Central or Houston Midtown we are ready to serve you.