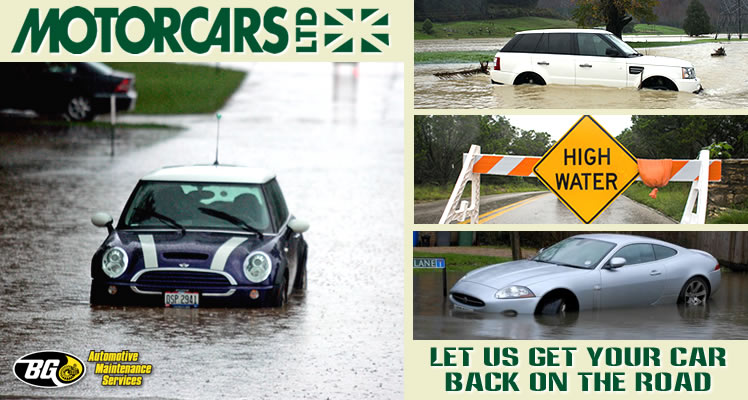 Motorcars Ltd. has found some helpful tips on what to do if your vehicle is in a flood.
Has your vehicle been sitting in high water? Here are some tips to keep you from damaging your vehicle, and keep it roadworthy.
Car Flood Tips:
Do not start the vehicle – It's tempting to turn the key and see if the car still works, but if there is water in the engine, attempting to start it could damage it beyond repair.
Determine how deep the car was submerged – Mud and debris usually leave a waterline on the car, inside as well as out. If the water didn't rise above bottom of the doors, your car will probably be fine.
Check the oil and the air cleaner – If you see droplets of water on the dipstick or the level of the oil is high, or if the air filter has water in it, do not attempt to start the engine.
Check all the other fluids – Fuel systems on late-model cars are usually sealed, but older cars may need to have their fuel systems drained. Brake, clutch, power steering and coolant reservoirs should be checked for contamination.

You can read all the other tips here at about autos – by Aaron Gold (Cars Expert)
Call on the experts at Motorcars Ltd. We will arrange to have your vehicle towed into our shop and give your vehicle an inspection to see what is needed to prevent any further water damage.
We use high quality BG products and equipment to remove and replace your vehicle fluids. See all the BG services Motorcars Ltd. offers below, click a link and view the benefit of each service.
Motorcars Ltd. BG Program
Most BG services come with free "Road Side Assistance" and your vehicle may be eligible for "BG 's Lifetime Protection Program" call either of your local Motorcars Ltd. service centers for more details (see below).
Motorcars Central – 8101 Hempstead Rd. Houston, Texas 77008 – (713) 863-9388
Motorcars Midtown – 2409 Austin Street Houston, Texas 77004 – (713) 526-8482
---
Motorcars Ltd. can removed the stress of worrying about your MINI, Jaguar, BMW. Mercedes Benz or Land Rover's possible water damage. Don't wait to contact us on water related issues that can cost thousands to repair if left unattended. We want to keep you and your car on the road for years to come. Schedule your Service at 1 of our 2 Houston area locations – Houston Central or Houston Midtown we are ready to serve you and answer any question you might have.